Introduction of Seongnam Arts Center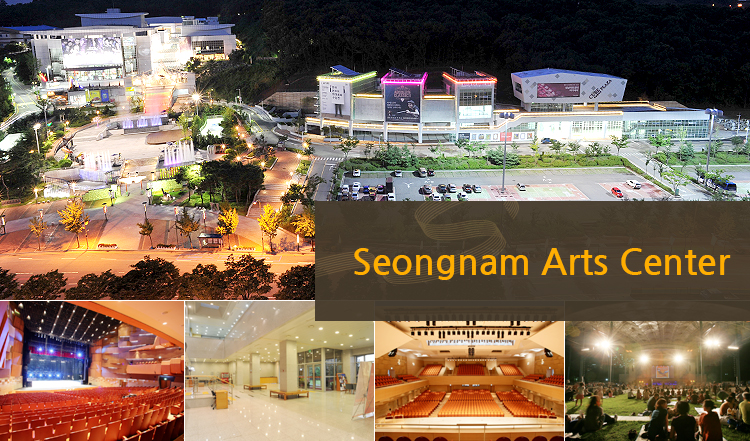 Since its grand opening on Oct. 14th, 2005, Seongnam Arts Center has adopted the latest trend in performing arts and, at the same time, has pursued to provide a cultural space which caters to the sentiments of the local community.
Seongnam Arts Center is operated by Seongnam Cultural Foundation, a non-profit organization which induces citizens to take more interest in culture and supports their cultural activities. While a number of theaters have opened in the metropolitan area recently, Seongnam Arts Center is still taking the leadership in setting forth the role of cultural foundations and the vision of theaters in the region, by presenting premieres, exclusive shows and programs of its own making as well as carrying out activities to increase people who enjoy or have the potential to enjoy culture. Through such efforts, Seongnam Arts Center has gained competitiveness matched by no other.
There are three theaters at Seongnam Arts Center; the Opera House with 1,804 seats, the Concert Hall specialized in classical music which boasts the best sound system in Korea and the Ensemble Theater to feature small-scale shows including jazz and play.
In addition, the Center has organized the Tancheon Festival, which is a culture and art festival for citizens, the Seongnam International Dance Festival and the Seongnam International Youth Orchestra Festival that teaches youths music for emotional education, thereby making significant contributions to the development of local culture.
Seongnam Arts Center also offers exhibition halls (the main gallery and the cube gallery), the cultural academy, the state-of-the-art music fountain, the outdoor square and various amenities. It's a resting place of choice rich in beautiful nature as well as a space where one can develop his/her potential. Seongnam Arts Center will make utmost efforts to become the cultural hub of the metropolitan area, as well as of Seongnam.